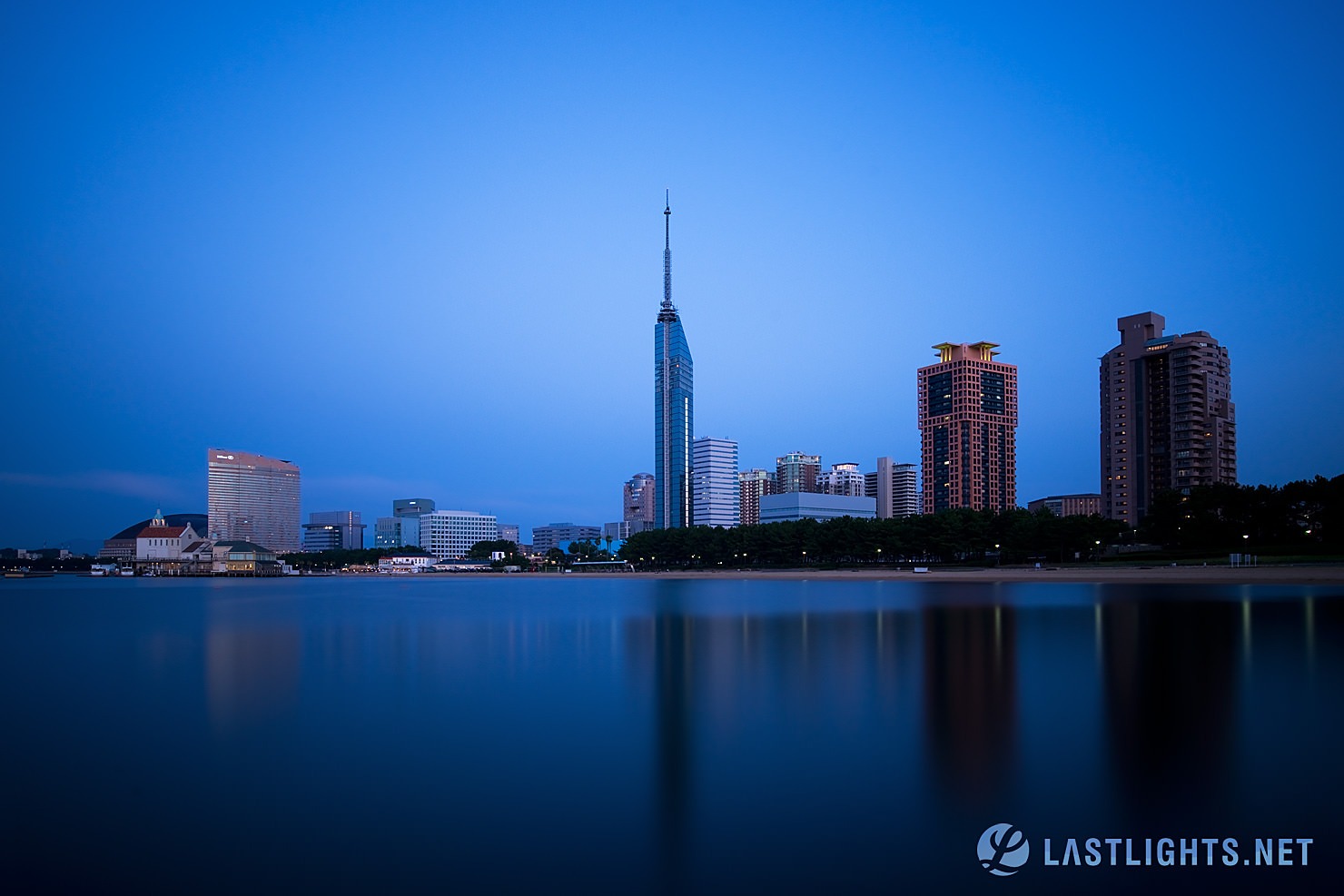 This photo of Fukuoka Tower was shot at Momochi Seaside Park in Fukuoka, Japan in September 2018. Fukuoka is the place that I call home, as I spent my childhood and youth years there (as an uncool kid 😅).
Fukuoka isn't a big name among travellers, compared to more illustrious cities like Tokyo, Osaka, Kyoto, etc., but it's the sixth biggest city in Japan (after Tokyo, Yokohama, Osaka, Nagoya, Sapporo) with a population of 1.6 million.
This area has been my most favourite place of the city since my university days (not the city centre, though), but it's not an ideal spot to shoot at dusk, as I'm facing the East with the sun setting behind me. I'm not a fan of East-facing spots, as the sky lacks colourful twilight hues often seen in the sun-setting side of sky.
Since the East sky gets darker much faster, I started the exposure earlier at 18:50 pm (17 minutes before the end of dusk), extending 1/4 second of base shutter speed into 259 seconds (at f/8) by using a 10 stop ND filter.
I like how the photo came out, especially the subtle but clear reflections on the water. I shoot at this spot every time I visit Fukuoka, and this photo has been my best attempt! 😀
Now I'm aiming to shoot a decent photo from inside Fukuoka Tower seen in the photo, facing the city centre in the East. It's a bogey spot for me, as I've never captured any satisfactory photo despite trying several times in the past decade.
Shooting a good blue hour photo with the East-facing sky is always tricky. 😅 I'll try again when I'm going back to Fukuoka next time!
NEVER MISS A POST