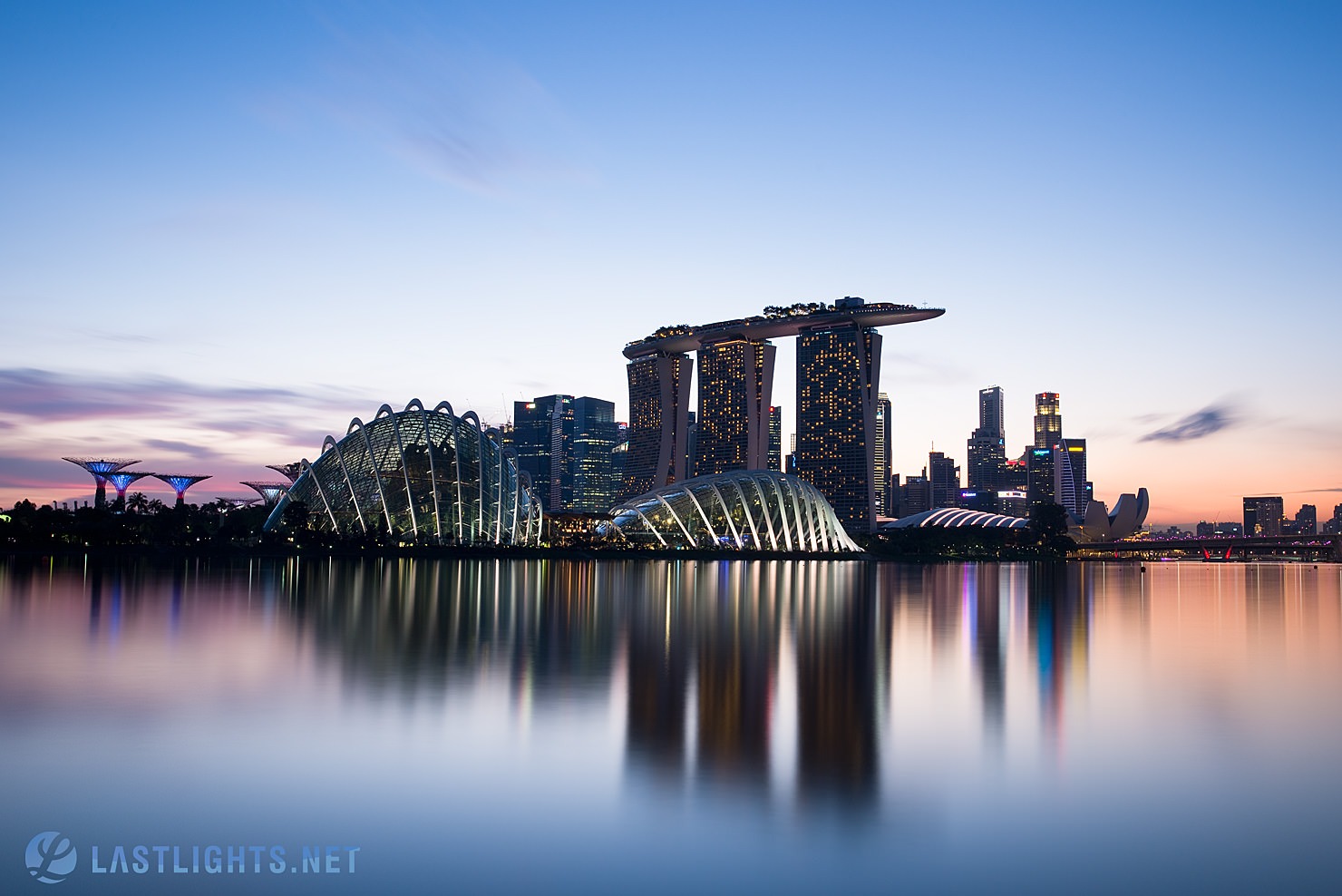 This photo was shot at Gardens by the Bay East back in January 2017. 6 years on, I feel it's still my personal best to date and the only photo that I've purchased a canvas print to hang on my wall. 😅
On that very day, the sky, the light, and reflections all came together perfectly. As a basic rule, I only go out and shoot waterfront cityscapes on a sunny evening with the quality light, but as for reflections, I never know until I reach the location (because it depends on how still the water is on the day), so we need a bit of luck here to tick all the boxes.
That said, having the best condition doesn't always guarantee a banger. To me, shooting compelling long exposure photos at blue hour comes down to two things – when to start the exposure, and for how long. Nail this combo or screw it up is all up to the person behind the camera. 😅
For this shot, I started the long exposure at 19:31 pm, 4 minutes before the end of dusk, and extended 3 seconds of base shutter speed into 194 seconds (at f/11) by using a 6 stop ND filter, smoothing out the water nicely.
Normally, I start the long exposure 10 to 5 minutes prior to dusk, but on that day, the sky wasn't darkened much despite being so close to the end of dusk, so I waited a little longer than usual.
For the same reason (the sky being not so dark yet), I chose a base shutter speed of 3 seconds to expose a bit longer although my usual preference is either 2 or 2.5 seconds, which extends the exposure to 128 and 160 seconds respectively with a 6 stop ND filter attached, according to Long Exposure Calculator app.
This is something I've learned from experience, but at the close end of dusk, starting the exposure a minute or two earlier or later significantly affects the end result. As for this photo, my judgement call was spot on, I must say! 😀
NEVER MISS A POST